Media Contact: Marianne Lippard, 203-285-2578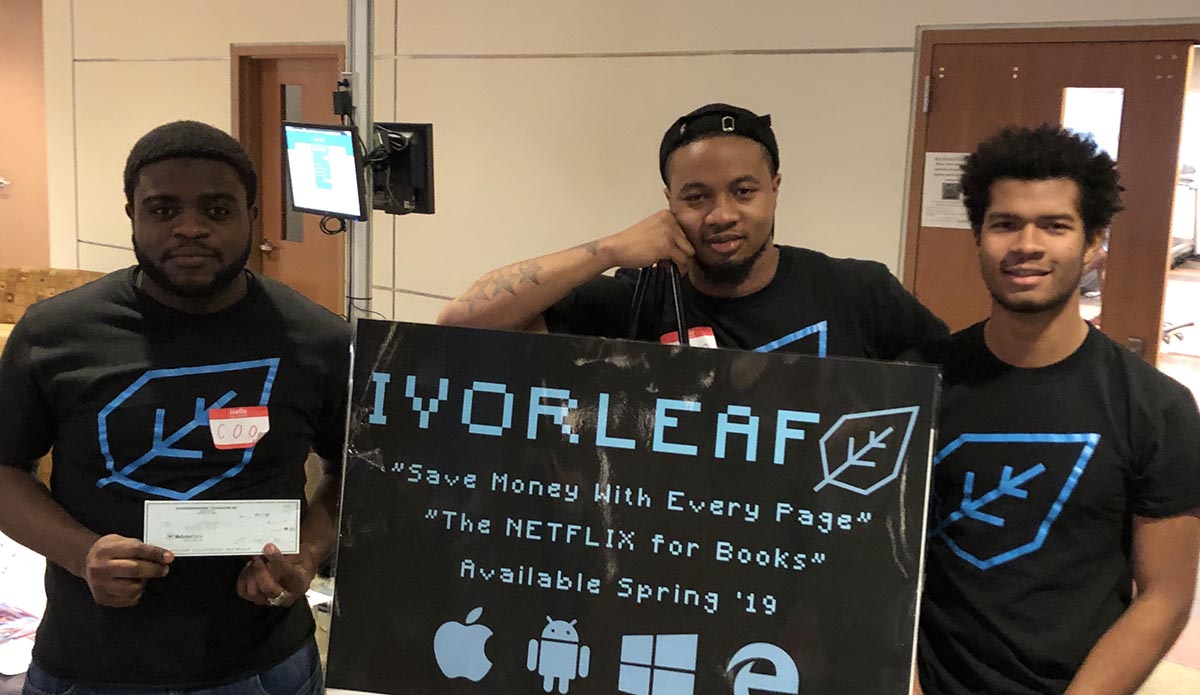 (Hamden, CT) December 20, 2018 - A team of Housatonic Community College (HCC) students working on a textbook streaming app placed third in the Venture Enterprise category at the 22nd Annual Connecticut New Venture Competition on December 7.
Ivorleaf, which includes students Lance Supersad, Elie Laurena and Trevor Gerald, won $1,000 in capital to grow their business. Ivorleaf is a new business offering an app that allows students to stream textbooks on their mobile phones.
The HCC business was the only entry by a community college. The venture enterprise category includes businesses that are considered to be scalable, high-growth potential ventures that are suitable for eventual equity financing. Teams from the University of Connecticut and Sacred Heart University placed ahead of Ivorleaf in the same category at the competition, which was held at the Quinnipiac University campus.
Supersad, chief executive officer for the company, said that he views coming in third as a significant accomplishment due to the quality of the projects from his competition. The business uses proprietary technology to make college textbooks easier to get and affordable for students.
"We fit the market because textbooks are expensive and the open education resources are negatively reviewed," he said.
Mike Roer of the Entrepreneurship Foundation, Inc. and Entrepreneur-in-Residence at GCC and HCC, said that Ivorleaf was the crowd favorite at the competition and scored high on all of the criteria the judges used to evaluate the business, which is unusual. Fake money is distributed to visitors at the competition and, as a show of support, they can distribute it to the businesses they would invest in. Roer noted that the fledgling business received one-third of the play money.
It was the second time in recent weeks that Ivorleaf received positive feedback on their business concept. The student company was also the crowd favorite at the HCC Student Entrepreneur Pop-up Shops in November, where they were awarded $250.
Roer explained that students endorsed the need for the Ivorleaf app, expressing their desire to stream textbooks to their mobile phones using the cloud. Roer, who is a textbook author and professor, said that he has offered to test the service using his own book. Roer said that in order to provide this service, the company would have to sell the idea to publishing companies.
"The students love it and the independent judges like it from a business standpoint,' Roer said.
Supersad said that the idea of running a tech company has been a dream for years and it's exciting to see his idea coming to fruition now. He has been fine tuning various aspects of the business since developing it in October.
"I've always wanted to run a tech company since I was six years old, idolizing Steve Jobs and Bill Gates," Supersad said.
Ivorleaf will be available for fall semester of this year.