Media Contact: Laura Roberts, 203-273-2218

BRIDGEPORT, Conn. (October 30, 2018) The Housatonic Community College (HCC) Foundation received a $30,000 contribution from KeyBank Foundation, the charitable nonprofit foundation of KeyBank, to support the College's Family Economic Security Program (FESP). The grant, which spans a three-year period, will support the nearly 400 students already enrolled in the program.
Through FESP bundled service offerings, HCC students of low to moderate income receive resources and tools to advance their education, career and economic security. Achievement coaches provide academic, financial and life counseling, while students frequently participate in workshops and activities, and career coordinators provide career counseling.
The FESP program, now in its fourth year, was adopted from the Center for Working Families model from the Annie E. Casey Foundation. FESP is an innovative partnership between HCC, Fairfield County Community Foundation Fund for Women and Girls, Housatonic Community College Foundation and LifeBridge.
"All of these students are working in addition to going to school, and many of them are financially supporting their families," explains Alese Mulvihill, Associate Dean of Student Success. "Learning how to juggle work, school and family allows them to move to the next level, and they're modeling behavior for their children and grandchildren, so there's ripple effects to the program as well."
The program's success speaks for itself. Retention rates for FESP students far outpace those of the College, at a staggering 30% higher rate. Course completion rates are better as well, and to date over 40 students enrolled in FESP have gone on to 4-year institutions.
Gabrielle Franklyn deCastro participated in the FESP program, and graduated this past May from HCC with a 3.8 GPA while also caring for her five year-old son. Today she is attending the University of Bridgeport to study Psychology and credits FESP for her success.
"They are there for you and advise you, that relationship with my coach was invaluable. She became my guide, helping me with class choices, managing financial aid, even with my applications to colleges. I have no family here, so for me that was very necessary." said deCastro.
"We are deeply grateful to the KeyBank Foundation for this generous grant," said Dr. Paul Broadie, HCC President. "This approach helps students work through barriers to success, and is allowing them to advance their education and careers. As a result, we're having an economic impact on the area. KeyBank is a great partner."
In conjunction with the grant, KeyBank also provides financial literacy training to FESP students.
"At Key, one of our philanthropic focus areas is providing students with opportunities to prepare for fulfilling careers through access to high quality education and support for their academic success," said KeyBank market president Jeff L. Hubbard. "HCC's Family Economic Security Program is positively impacting student success and graduation rates, and we are proud to support it."
---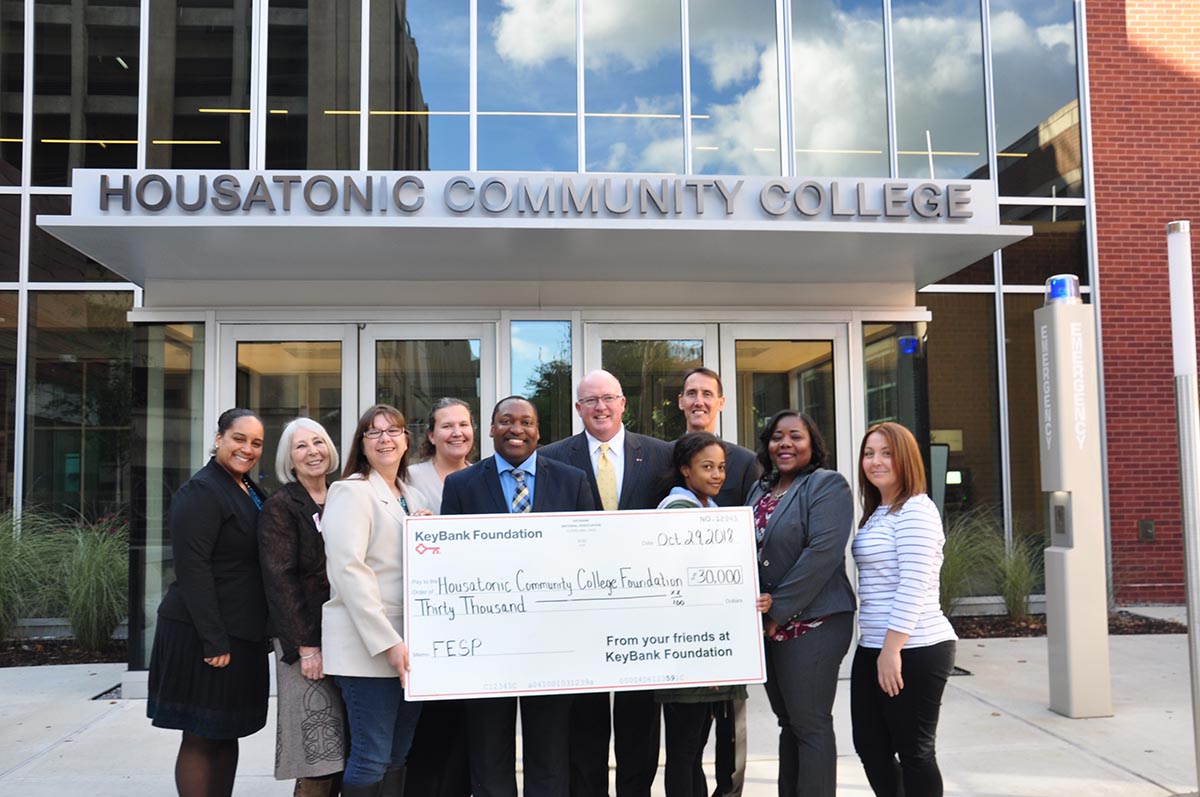 Photo Left to right, Robin Avant, HCC Dean of Academic Affairs; Fiona Hodgson, Executive Director Housatonic Community College Foundation; Rebecca DelValle, HCC student; Alese Mulvihill, Associate Dean of Student Success; Dr. Paul Broadie, II, President of Housatonic Community College; Jeff Hubbard, KeyBank Market President; Brad Hardy, KeyBank Senior Relationship Manager and HCCF board member; Rosenine St.Val, HCC student; LaKisha Jordan, KeyBank Corporate Responsibility Officer and Heather Harrick, HCC Student.